Motorcycle / Bike Accidents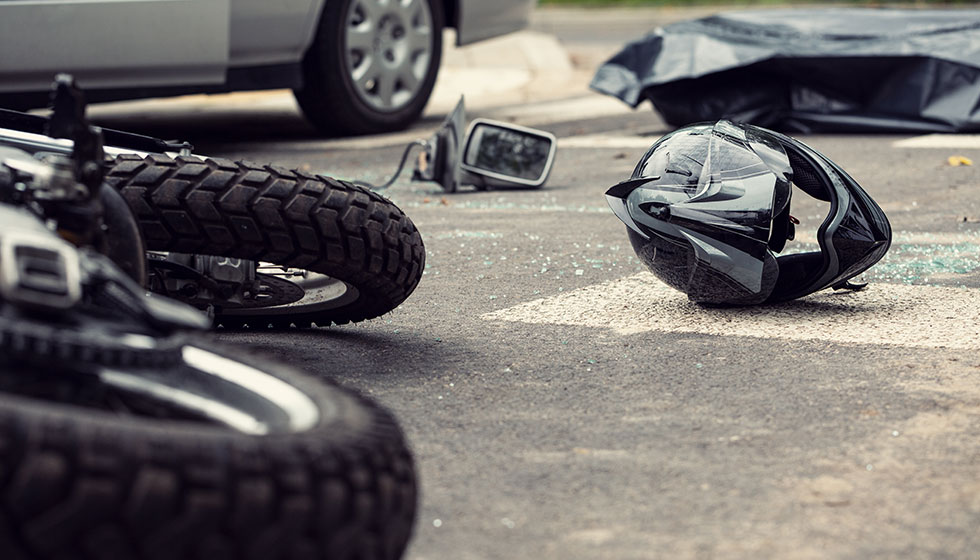 Motorcycle/Bike Accident Attorneys Serving Wilmington and all of Southeastern North Carolina
At Girdwood & Williams we are dedicated to helping individuals who have been injured in all types of vehicular accidents, including motorcycle and bicycle accidents. Our lawyers have handled many motorcycle and bike cases for victims from Wilmington and across southeastern North Carolina. The motorcycle accident attorneys at our practice can help ensure that you receive the financial compensation to which you are legally entitled if you have been injured due to another motorist's negligence.
Motorcycle Accident Causes
Motorcycle accidents are often caused by many of the same factors that contribute to car and truck accidents. Drivers who break traffic laws or who fail to pay attention to their surroundings can cause accidents, for instance. In addition, individuals who drive under the influence of drugs or alcohol or who are using their cell phones pose a severe threat to themselves and to others on the road.
The motorcycle accident lawyers at our practice are committed to making sure that the parties responsible for the suffering of victims are held accountable for their actions. We have the experience and tenacity that is necessary to stand up against insurance companies in order to ensure that victims' rights are protected. If you have been injured in a motorcycle accident, contact the attorneys at Girdwood & Williams.
Motorcycle Accident Injuries
Because motorcycles and bicycles do not offer their riders any external protection, motorcycle and bicycle accident victims run a greater risk of suffering brain and spinal cord injuries. These injuries can result in substantial hospital bills, physical therapy costs, and other medical expenses. In addition, victims and their families may be faced with loss of wages and other financial hardships. Our motorcycle and bicycle accident lawyers can provide victims with the resources and legal representation they need to begin putting their lives back together.
What Our Clients Say
Scott did a great job from start to finish with my case. Kept me well informed throughout it all. Thanks again!
Mason W.
I was struggling to move forward with a 2 year old case. A couple weeks ago, I decided to call Girdwood & Williams and Scott Girdwood helped me take care of it. His office was friendly, highly professional and made communication very easy. To be honest, I've been burdened with this for a long time, and as anyone who's needed legal services knows, it's not easy. It is such a relief to finally be done. It all happened so quickly and efficiently, I'm in shock. A HUGE thank you to Mr. Girdwood for all his effort and time put toward success. I will solely recommend his law firm to anyone seeking legal counsel from here on out!
Lauren W.
Wish it was possible to give more than 5 stars. A few years back I was in a bad car accident. With a lot of bills resulting from this accident I figured it would be smart of me to higher an attorney to represent me. I was referred Scott Girdwood and now I can't thank him enough for what he did for me. He took on to fight my claim where there were a lot of factors contributing to determining fault. He stood beside my side the whole time and went above and behind keeping me in the loop with what was going on. He also educated me and how the process went so I was more understanding. From day one we new the other persons insurance was going to be a pain to fight. Scott fought three different attorneys and not once backed down. Almost 2 years after the original accident, Scott was able to get us settled outside of court. Once again can't thank Scott enough for what he did for me!
Will R.
Several years ago 2 family members and myself were in a horrible accident. Our van was totaled. The law firm who initially represented me was going to end up with more from the settlement than I was, and I was the one injured. They said if they worked all summer they could maybe get 400 to 500 dollars for me. I left them and went with Ben Williams. He was amazing. He got $5,000 dollars more in no time.
Susan J.
Scott Girdwood and Ben Williams are excellent attorneys. There are very knowledgeable of the law and fight hard for their clients when they need it the most. Highly recommended!
Stephanie S.
This law firm has handled several accidents for my family over the past few years. Ben Williams knows what he is doing and has gone above and beyond for us. Sabrina Ward has been extremely helpful and nice. These two have done everything they could to help us out with each accident, even the small one. I couldn't be more happy with their work.
I recommend hiring Girdwood & Williams for even your smallest accident to take the stress away.
Jacki M.
I strongly recommend using Girdwood and Williams. I got a speeding ticket a few months ago and called Scott Girdwood. I was able to speak with Scott on the phone immediately and he put my mind at ease. I paid him a reasonable fee over the phone and I didn't even have to go to court! He was able to get my ticket reduced so it didn't affect my license or my insurance. After my court date, Scott sent me a letter to let me know how everything turned out. He made this ordeal very easy for me and I am very thankful!
Nicole M.
Wilmington, NC
When I was hurt on the job, I had concerns whether the giant company I worked for had my best interests in mind, so I contacted Ben Williams. From the beginning, Ben told me what to expect and all the possible outcomes. Knowing that I have a wife and kids, Ben helped me make informed decisions to protect me and my family. When court ruling after court ruling when in my favor, the company I worked for agreed to settle, and I am very happy with the result. I have complete confidence in the professionals at Girdwood & Williams, and I would not hesitate to call on them again if needed.
Bill Marett
Wilmington, NC
My experience with Scott and the staff at Girdwood & Williams has been nothing but outstanding! I highly recommend them as they are very knowledgeable and responsive. Thanks again for your help!
Sarah Huettl
Wilmington, NC
Couldn't ask for better representation. Attorney Girdwood is truly an exceptional lawyer. Will continue to fight for his clients and and best possible outcome. With one phone call he helped fix a situation that was going to cripple me financially. Can't thank him enough!
J. Davis
Wilmington, NC
Contact our bike accident lawyers serving Wilmington and all of southeastern North Carolina today
If you or a loved one has been injured in a motorcycle or bicycle accident, contact the lawyers at our firm today. Our motorcycle accident lawyers can help ensure that you receive fair compensation for your injuries.
Motorcycle and Bicycle Accident Attorneys Serving Wilmington and all of Southeastern North Carolina
Thousands of pedestrians and bicyclists are injured in accidents every year in the United States. Many of these accidents cause serious harm to the victims, such as traumatic brain injuries and spinal cord injuries, and some accidents even result in wrongful death. If you or a loved one has been injured in a bicycle or pedestrian accident, the lawyers at Girdwood & Williams will work tirelessly to ensure that you receive the financial compensation that you deserve for medical expenses, pain and suffering, and other costs.
Pedestrian Accidents
Automobile, truck, and motorcycle drivers bear a responsibility every time they get behind the wheel of their vehicles to follow the rules of the road and to constantly be aware of any pedestrian activity. If drivers fail to exercise caution at stop signs, school bus stops, crosswalks, and stop lights, they can be held accountable for their recklessness and negligence if they strike a pedestrian.
The legal doctrine known as "last clear chance" provides that a driver can be held liable for injuring a pedestrian if he or she had any opportunity at all to avoid the pedestrian and prevent the accident from occurring, even if the injured pedestrian was also in the wrong.
If you or a loved one has been injured in a pedestrian accident, our lawyers can help ensure that you receive financial compensation for medical expenses, lost wages, and pain and suffering. Schedule a free consultation with the pedestrian accident attorneys at our practice for a thorough review of your case.
Bicycle Accidents
In addition to the harm they can cause pedestrians, reckless and inattentive drivers also pose a threat to bicyclists. Drivers who speed, fail to adhere to stop signs and stoplights, or who are under the influence of drugs or alcohol can seriously injure bicyclists if they hit them with their vehicles.
If you have been injured while riding a bicycle, our accident attorneys have experience in investigating all aspects of your accident in seeking to prove to a jury how another party's negligence is responsible for your injuries. Our bicycle accident lawyers will work to ensure that you receive financial compensation for your pain and suffering, medical bills, and other damages.
Contact our pedestrian and bicycle accident attorneys serving Wilmington and all of southeastern North Carolina today
At Girdwood & Williams, our motorcycle and bike accident attorneys have helped victims from Wilmington and all of southeastern North Carolina secure proper compensation for their injuries. Contact the the motorcycle and bicycle accident lawyers at our practice to discuss your case and learn more about how we can fight for your rights. Tell them You've Got Girdwood & Williams!
Get On the Winning Team: Talk to Us